Forum will be closed!
Fri Jun 26, 2009 9:44 pm by Admin
Although our forum had been establish approach two month, but i found that many people prefer to listen the song than going to our forum. Especially our loving moderators! Actually not only him also. Sometimes I will also like that.




Our Forum seems not popular than ever. I decided to closed it if continue like this.

[ Full reading ]
Comments: 0
Change our Website into Blog
Sat Jun 20, 2009 5:51 pm by Admin
Our Website is testing about 1 month. But, I found that the website are not popular as the forum because the page loading too slow. So, I decided to change the website into the forum. Click the to Poll to help me to a decision.


Comments: 0
New Theme Installed!
Tue Jun 16, 2009 12:51 am by Admin
I had installed a new theme. I hope that you will like but but this theme occur some problem. I will try to fix it.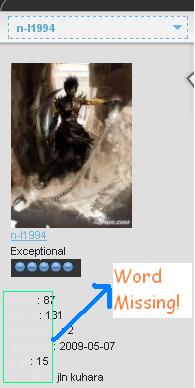 You only highlight that part to see it. Sorry for the inconvenience caused.


Comments: 0
J3B Forum 1 Month Anniversary!
Sat Jun 13, 2009 3:03 pm by Admin
To celebrate are J3B Forum 1 month anniversary, I will make a event. I hope that all members can participate this event.

Date: Date DELAYED (Friday)
Time: TIME DELAYED
Place: Our J3B Forum

To participate this event, you required:
1. a Yahoo E-mail account (Register Here)
2. Java (Download Here)
3. Microsoft Office 2003/2007

For details about this event I will be upload later. Post …

[ Full reading ]
Comments: 0
Subscribe RSS in our forum
Thu Jun 04, 2009 11:49 pm by Admin
Dear members, please subscribe RSS in our website:

Firefox users: Go to our Portal > Bookmarks > Subscribe This Page > Subscribe To Latest Forum

Then you can view our latest topics by click "bookmarks".


Comments: 0
Latest Update Regarding the ranks.
Tue Jun 02, 2009 9:17 pm by Admin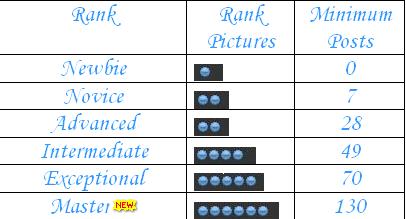 But, all the admin(s) or moderators are in the special groups. So, they don't follow it. Members who reached Intermediate or about can become moderator. So, be hardworking to post on this forum:D.
NOTE: Admin can change all the rank(s) without prior notice.


Comments: 0
Inactive Members
Tue Jun 02, 2009 9:04 pm by Admin
1. w0nDerFuL
2. ceci
3. shiyei
4. siau
5. michael
6. TOP绿豆

Those above members should be careful. If 30 days did not post any messages, your account will be deactivated or deleted by Forum Server(not me).



Comments: 0
New TOpic had been updated
Tue Jun 02, 2009 4:02 pm by Admin
New Topic: "Our Future" had been uploaded. Let's discuss our future here.


Comments: 0
Visit our Photo Sharing Topic in the Website
Sun May 31, 2009 5:11 pm by Admin
In our website , I already upload some Chinese New Year Carnival pictures. Those who are interested can go our website and take a look!


Comments: 0
Upload an Image
Sun May 31, 2009 12:41 pm by Admin
Those who have took some photos in the school event like Chinese New Year Festival, Dragon Boat Festival and many more, you can upload to our to share with others. Our J3B Website are still in construction. Those who are interested to post a photo, go to our J3B Website and register an account, then post an Photo Gallery section. Reminder: You cannot login your forum account into the website. …

[ Full reading ]
Comments: 0
26.5.2009- We required a Photographer
Thu May 28, 2009 4:42 pm by Admin
Those who are interested to become the photographer in this forum pls inform me and you will become moderator.[u]


Comments: 0
Help to make this forum more powerful
Wed May 27, 2009 4:25 pm by Admin
To all members, please give me a hand to help to make this forum more successful. Try to invite all the students in our class or teachers(except our English Teacher because contain something bad about her) to this forum. I am very grateful those who are kindly help us to make the forum better.


Comments: 0
Adjust the Topic of the Forum
Wed May 27, 2009 4:20 pm by Admin
I already added some forum topic and adjust it to make it nicely arranged. Our forum need a moderator who can report the activity of the forum and take all the pictures while in school event. Those who are interested please inform me immediately.


Comments: 0
Register As Member
Fri May 08, 2009 12:03 am by Admin
We are welcome all the J3B students and other people to become our member(s). So, please, encourage others to participate in this forum today! Thank You.


Comments: 0
Welcome To This Forum
Thu May 07, 2009 11:59 pm by Admin
To All Guest and J3B students,
Welcome to our J3B forum. At here, you can post anything and discuss with other members in this forum. I hope that this forum will be success and please visit this forum often. Our website are still in construction. Anyone who can help me design a background images please tell me.

In conclusion, thank you for your visiting.






Regards,
By Admin.



[ Full reading ]
Comments: 0
Statistics
We have 25 registered users
The newest registered user is ahyii

Our users have posted a total of 414 messages in 69 subjects

Who is online?
In total there is 1 user online :: 0 Registered, 0 Hidden and 1 Guest

None

Most users ever online was 7 on Sun Nov 14, 2010 12:04 am